Yes, we might be enjoying summer at its best. Fall is not very far off and it will be followed by the dreary winter months and the biting cold. You might be forced to stay back in the comfort of your bed with all those warm wrappings around. You also have the choice to move out in the cold climate outside but certainly would like to be as protected as you possibly can. While protecting yourself against the elements of nature is important, you would not like to compromise on men's winter fashion statements, style and good looks at all.
Hence, you will certainly be on the lookout for the latest mens winter fashion that not only protects you from the winter but also helps you stay fashionable and contemporary as far as style statements are concerned. There are dozens of such fashion trends and clothing that are made specifically keeping the winter season in mind. They come in different price categories, materials, designs, and specifications. If you look around, do some research and then choose you will most certainly have no dearth of choices. So, let us have a look at some of the trendiest and fashionable and best winter clothing fabrics, apparel, accessories, and other such things.
How To Dress For Winter?
Staying protected during the winter months is perhaps the most important prerequisite as you look for winter shirts for men and other such items. That being said, you cannot be away from contemporary styles and therefore you must ensure that you look trendy and modern. Here are a few things that you must bear in mind when you decide to dress for the long and cold winter months.
Layer Your Winter Clothes
While winter could be a problem in terms of general health and movement, it does come with its own share of good things. Winter provides men with the option to try out different types of clothing of different colors and combinations. You can mix clothes and choose the colors that are matching and different. This is because you need to have layers of clothes during winter and you must try and take advantage of the same. You could choose many options between basic layers, middle layers, and top layers. They include t-shirts, undershirts, shirts, sweaters, denim jackets and vests. As far as the top layers are concerned, jackets and coats while protecting you from the exteriors also add style and sophistication. You must understand the right way to layer for different occasions. Layering for formal occasions and casual occasions will make all the difference.
Winter clothing for 2020 Season
Let us now get started by looking at some of the fashion essentials as far as fall and winter clothing for 2019- 2020 are concerned. We are sure it will give some insight into the various options and varieties that you could have. It will ensure that as a man you not only look trendy and fashionable but you are also well- protected against the elements of nature.
Which Material To Choose for Winter?
Before we get into the topic we will get started by looking at the choices of materials as far as winter outfits are concerned, we will have a look at the materials that could be chosen. Different textiles come with different properties and you should have a basic understanding of the same before you choose the right one or a combination of the same.
Cotton
There is no doubt that cotton is the backbone of the entire clothing industry. Hence, a majority of apparel and clothing are made from cotton. There are some good and logical reasons for the same. It is affordable, retains color well depending on the quality of dye used and is also relatively soft. It is quite easy to clean and is also durable offering value for money.
However, it does have some shortcomings. It shrinks quite easily and also stretches after prolonged use. It is very absorbent and therefore it retains body odor. The process of drying is also quite lengthy when compared to other fabrics. There are different types of cotton and therefore you must do some research and choose the right one based on softness, absorbent qualities, and durability and colorfastness.
Flannel
We have often believed that flannel is a pattern which actually it is not. It is a type of fabric. Originally it was made from woven wool. However, with technology evolving if is made from other fibers like nylon, cotton, and polyester. It is finished using a process called napping. Napping helps flannel to have that unique fuzzy feel and appearance. It also helps the body to remain warm without being too heavy.
Wool
It is quite likely that most of us would have quite a few woolen apparels and most men would have many of them stocked up in their wardrobes. While woolen clothing does look very comfortable and trendy, there are a few more things that we should know about them. Wool is made from the hair of sheep, rabbits and alpacas. However, sheep wool is the most common. The type and quality of wool varies and depends on the type of sheep from which the wool is taken.
Wool is preferred because it is animal-friendly and does not cause any damage to it, if the wool is sheared properly. It is also hypoallergenic, extremely warm, and also is stain and odor resistant. It has insulating properties when it gets wet. It is not wet to touch till it absorbs 60% of its own weight. It also is rich in nitrogen and water content, making it fire-resistant. If you are a person with sweaty feet then woolen-socks could be a great option.
Nylon/Polyester
Nylon and polyester are synthetic fibers that are from with the help of chemical solutions. They are popular because of some obvious advantages like affordability, shrink resistance, moisture-wicking capabilities, and stretch. They are also shiny and reflective in appearance, which may or not be the liking of a few.
Polyester has more moisture-wicking properties when compared to nylon. If you need a good outer shell for your outer layer of garments, then nylon could be a choice. They, however, are known for making noises when they rub against themselves. It is referred to as a swishy type of noise.
Leather
Animal leather is extremely popular and though there are other substitutes like faux/vegan and artificial leather, they are as good as natural leather. If you are looking for the right Men's
Winter Fashion Jackets it is quite obvious that you will have leather always in mind. Leather comes in different variants in terms of durability, color, softness, heat insulation and color. Leather, in general, is quite strong and stubborn and has great heat insulation. Hence, they are used in the form of jackets and other such apparels during winter months.
They also have the capacity to hold a large amount of water. It, therefore, can absorb perspiration and it also can dissipate it quite effectively. However, you must try and avoid cheap leather. This is because of the inferior quality of the weather. Further, it is quite possible that they are the right and ethical process of treating animals may not be followed.
Other Materials Used for Winter Clothing Production
The above are some of the most commonly used materials for making clothes and apparels. There are also other materials like viscose and cellulosic fibers. There are also some experimental fabrics from pineapple, mushrooms, and even milk that are being tried out.
Additionally, you also have hardware and notions like plastics, metals, and wood. These and a few more assorted materials are used as hardware and are considered intrinsic to many final dresses. They come in handy for making buckles, buttons, zip fastenings, clasps, and hooks and so on. Though they might look small in size, they are big business. For example, the zip market alone could be worth around $13 billion on a yearly basis.
Best Mens Winter Coats:
Let us now look at get started with some of the interesting winter coats so that you can perhaps be first in the list.
Line Jacket Ultra Light
This certainly is a must for those who are looking for some of the best men's winter fashion essentials. It could be worn in the home or even when you are out for a stroll or even when walking your pet dog. You also could wear it beneath a topcoat and you will certainly feel quite warm. It comes in different colors and will certainly add quite a bit of visual color during the winter season and snowy days. Canada Goose Bromley is quite expensive yet it offers reasonably good value for money.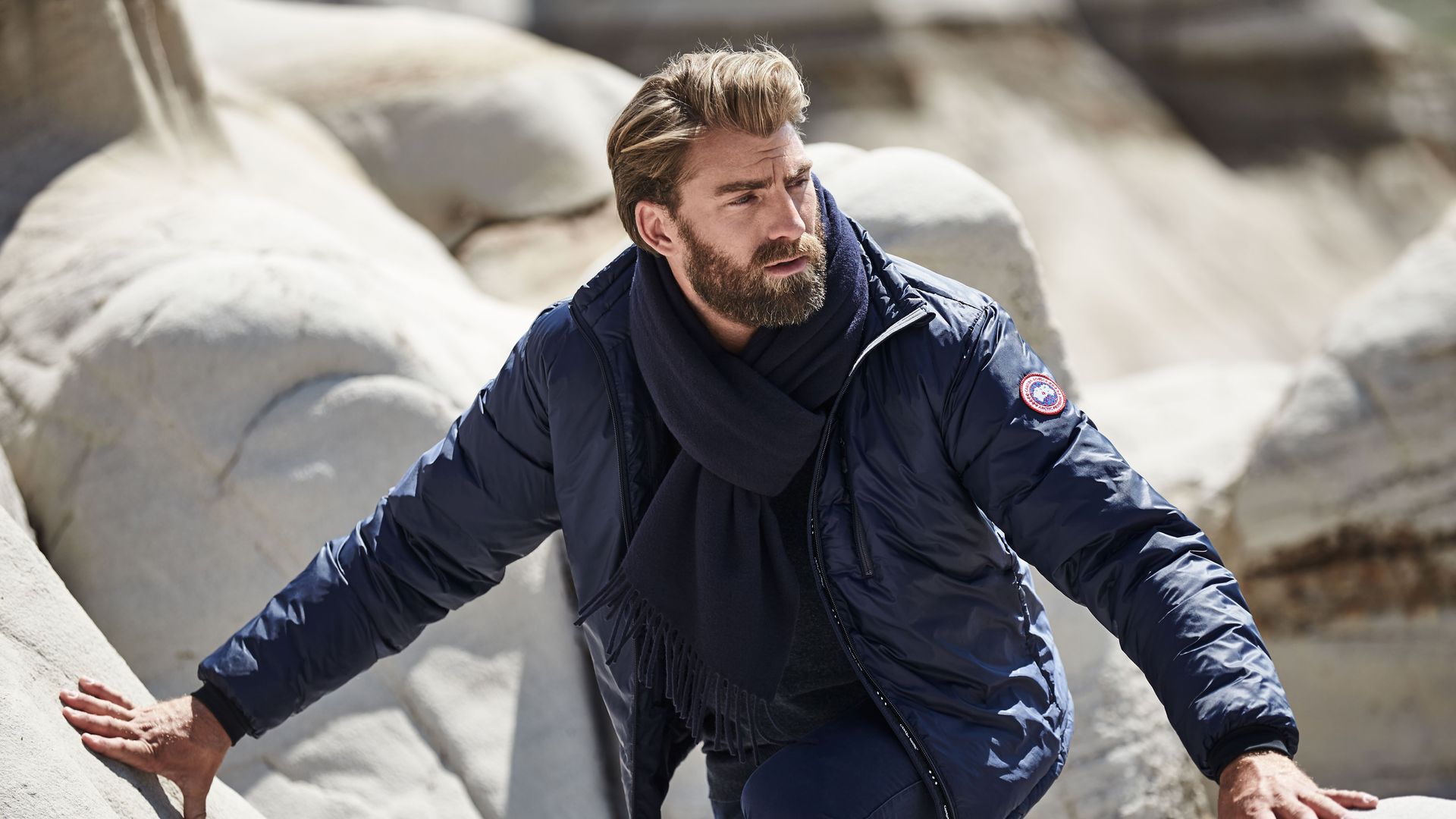 The Classic Top Coat
These classic topcoats also come in different colors, sizes, and shapes. It certainly will go a long way in sharpening and adding sophistication and class to your looks. It is, however, suitable only for those days when the temperatures are not too low.
The best thing about these topcoats is that they go well with a number of dresses, including formal outfits. They can be worn with a suit or even with sneakers on. They are not too expensive, they are made from quality materials, and offer very good value for money. In fine, you could live your dream as far as choosing the right and most contemporary men's fashion winter coats are concerned.
Our pick is Bodell Coat below.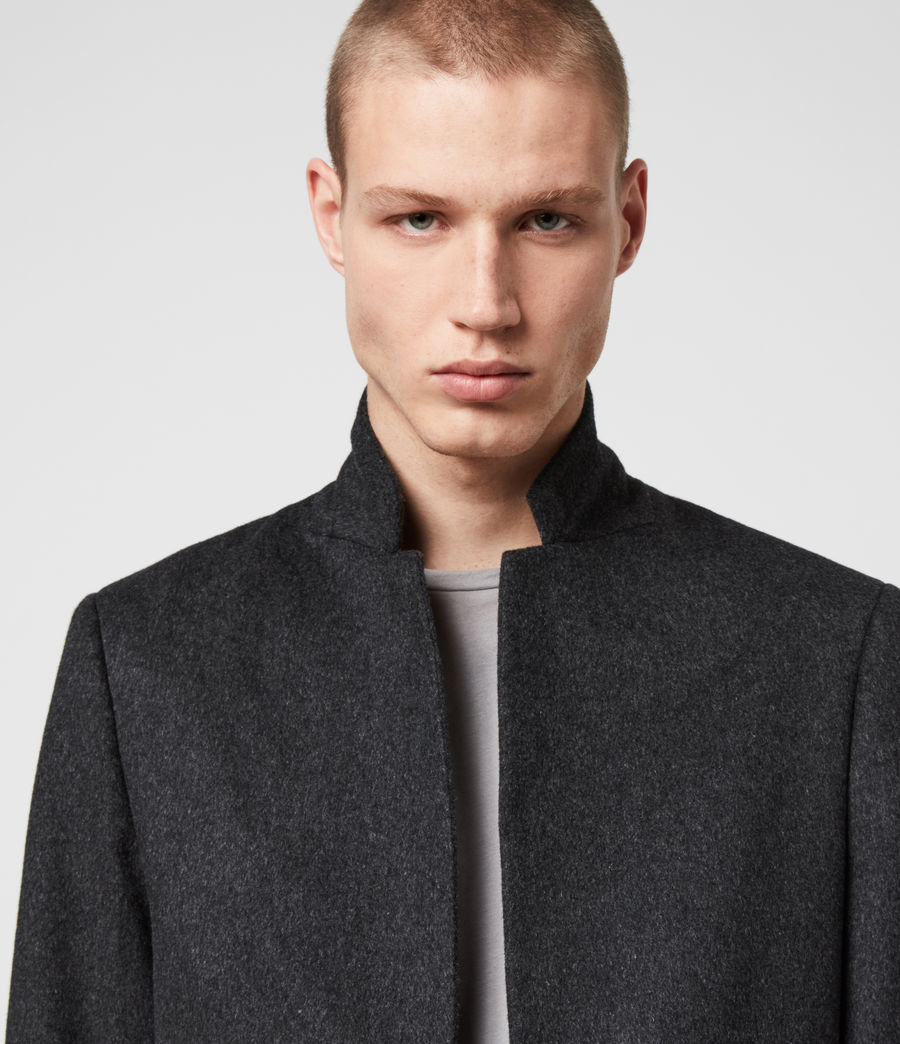 Flight Jackets, or Bomber Jackets
These jackets have certainly traveled a lot in terms of style and appearance over the past many years. They made their first appearance around 100 years ago. They were previously used by pilots during World War 1. This was because planes those days had open cockpits and these jackets came in handy when there was a need to fight the elements of nature.
The jackets are made from thick and sturdy leather and they also come with fur linings. The fact that they helped keep pilots to fight biting cold when flying at great heights with open cockpits is proof enough about the quality of these special jackets.
Men's Military Winter Jackets
These are again military-inspired jackets and they have different names and they are also available in different variations and styles. The M-65, in particular, is quite unique and special because it is the predecessor to many modern-day military jackets.
Though they are not exactly very warm, they do add quite a bit of style, class, and sophistication. They come in a range of colors, designs, and patterns. It could be conveniently used as a good-looking layer over flannels and sweaters.
Yet, our best pick is MA-1 HOODED NASA FLIGHT JACKET.
Best Men's Winter Shirts And Sweaters
Sweaters
These are stunning looking winter sweaters. Of course, they should be used as a layering option and they come in different styles and colors. They have quite a few attractive features including fleece lining, sleeve hits apart from other features.
They are basically a zip pullover with graphic marled styles. They come in different sizes starting from small to XXX-large. They keep the body warm and you could use a coat, jacket or other such warm clothing atop these pullovers.
Shirts
The shirt is, of course, one of the most commonly used parts of the outfit of men, and if you are looking for the right men's winter fashion trends then it is quite obvious that you should have quite a few of them in your wardrobe.
While we like being practical, we strongly feel that winter clothes don't mean boring clothing. Therefore, for mild winter climate, our pick is Old Captain Shirts.
However, if you live in a colder climate, you must be sure that you choose the right shirts that go well with other layers of dresses and inner-wear that you would be making use of especially during the extremely cold winter season.
When we talk about shirts, though there are quite a few of them in terms of styles, designs, and sizes, we will try and look at those that are suitable for winter wear. It would be better to choose cotton if you are planning to go for many layers above the buttoned shirts.
You must try and look for handmade ones made from 100% flannel cotton. They come in trim fit and also loose fit and you can choose the one that meets your specific needs.
Henley Winter Shirts
The good thing is that Henley shirts come in tough and hardened fabrics and therefore men can also use them during the winter months and cold seasons. They may not be stylish in terms of looks, but when it comes to protecting you from the terrible winter temperatures, they do come in very handy. They are made either from wool or cotton.
You also could get Henley shirts that are a mixture of the two. If you are looking to have a quality innerwear for insulation from cold temperature, then it is worth going in for Henley that is made from wool or a combination of wool and cotton. They do come in many bright colors, but many feel that they are comfortable with neutral colors like gray, tan, and navy or white. This is perhaps because they match well bright-colored sweaters, flannels, coats, and jackets.
Flannel Shirts
There is no doubt that Flannels are a must for men as far as their winter wardrobes are concerned. The good thing about Flannels is that they have wonderful insulating properties and are extremely trendy and fashionable. They go well with almost everything that you wear and they come is a wide assortment of colors, designs, and shapes.
While women love flannels, there are as many men who also love to wear them. Another good reason why they are so much in demand is perhaps because of the price. They are available for price range as low as $20 and therefore they do not pinch the pocket too heavily.
Hoodies for Men
The hoodie is basically a sweatshirt and the only difference is perhaps the fact that it comes with a hood. The hood can be extremely useful in the winter season when you have gusts of cold wind and it can protect your ears from these uncomfortable and chilly winds. They are made either from cotton, wool or other fabrics and can be helpful as a quality inner layer. You get in different styles, designs, and colors and price ranges.
You may have to pay attention to the quality of the zip and of course the material that it is made from. They are also available in different sizes. It can be used for formal and casual wear and it certainly must be a part of your wardrobe if you wish to be fashionable and be in line with the right men's winter fashion trends.
Men's Winter Trousers And Pants
While we have talked about clothing and apparel that could help protect the upper part of our body, our lower part including trunk and lower extremities need protection from the brutal cold during the winter months. Hence, you must do your research and choose the right fall pants.
They should be able to serve the dual purpose of protecting you from the winter months, insulating your lower extremities and at the same time, they must be fashionable and should be in line with the latest trends and styles.
While you have cotton pants, it would be better to choose fall pants that are made from tougher materials like denim, wool amongst others. It is all about searching, doing your research and you will certainly be able to come across dozens of options.
Let us look at a few types of fall pants that could help in keeping you warm without compromising your style statement like a man.
Denim Pants for Cold 2020 Weather
Denim has been around for almost a century now and it has not changed too much as far as meeting the needs for men's trouser-requirements are concerned. Denim still continues to be a part of men's wardrobe and are very much part of men's winter fashion essentials even today.
The first denim pants came into the market in 1870 and since then it continues to be highly popular and has not changed too much in terms of overall purposes and objectives. Yes, there may have been some changes in terms of colors, materials, cuts, and washes.
If you are looking for denim for the fall or for winter it would be better to go in for the slim ones and not the ones that cling to the body. There are many brands and makes of denim that conforms to your body shape as you keep wearing it more and more.
There are some unbranded denim options too and it could be good for those who are looking for cost-effective solutions, to begin with. There are many brands like Pure Blue Japan, Rogue Territory, and 3Sixteen amongst others to choose from.
Chinos
Are you keen on meeting the right men's casual winter fashion 2020 requirements? If yes, then, please spend some time getting to know more about Chinos. Chinos have been around for many decades now and for most men, it is extremely important to have a few of them in their wardrobe.
Chinos are mostly made from 100% cotton. There are some brands that use Spandex as an option because it offers more stretch and comfort. The good thing about them is that they are suitable for both casual and formal wear. They do make a very good company for men during the fall. They are not very heavy and they go extremely well with sneakers and boots.
There are many brands available out there and therefore choosing the right one should not be a big problem. Most of the chinos are made from cotton that is of medium weight. If you are looking for something more protective and better insulation, then you could choose chinos made from moleskin and dark canvas.
It would not be a bad idea to try out brands like the Banana Republic and Crew. To sum up, there is no doubt that chinos go a long way in removing the need for a trouser that is stylish, contemporary and also helping you to wear something that protects you from the elements during fall and winter.
Woolen Winter Pants
If you are living in a cold place, it would be better to go in for woolen pants. They not only help to meet the latest men's winter fashion trends but more importantly protect your skin and joints from the dangerous cold which often could lead to frostbite and other complications.
The good thing about woolen pants is that they do go a long way in adding class to your overall outfit. Depending on the local climate, you could choose woolen pants of different thickness and gauge. They are often paired with minimalist styling and the good thing is that they tend to work extremely well.
Further, quality woolen pants not only retain heat but are also known for their soft texture and comfort. They are hypoallergenic and therefore you can we are them literally for the entire day. They also absorb moisture quite well and therefore even with a significant amount of sweating, and woolen pants will not smell bad or give out a bad odor.
They are available in different price ranges and you could choose the one that meets your specific budgets and pocket. They do go a long way in meeting the needs of men's casual winter fashion 2020 requirements quite well.
Men's Boots And Shoes For Winter
Our feet need to be completely protected and covered during winter. The free days of flip-flops and other casual foot-wears have to be put aside at least till the next summer months. You must, therefore, spend some time choosing the right shoes and boots that could help protect you from the elements of nature quite well.
There are endless choices and if you spend some time gathering the right information and knowledge you will be able to come out with endless choices of shoes and boots.
There are some commonly held myths and wrong opinions about boots and shoes for winter and it will be interesting to know more about them over the next few lines.
White Winter Sneakers
Many believe that white sneakers are suited only for the warmer months and therefore should be used only during the summer season. This may be theoretically correct but from a practical standpoint, they are not perhaps right.
Obviously, the basic white sneakers can also protect your feet from the vagaries of winter climate and season. They can balance out footwear that is overly dark. There are white sneakers almost in each and every outlet and therefore you will not have much of a problem choosing the right one.
There are several brand names that have the finest collections of white sneakers.
Winter Boots for Men
It is quite unlikely that you will be able to come across too many men's fashion guides that do not make mention of boots. Boots are considered integral to any man because it protects your feet against the cold weather during the winter and also helps him to stay in touch with the latest fashion and style statements.
Boots are warm, comfortable, and most important contemporary and stylish. You could choose from entry-level boots to more sophisticated boots that cover almost the entire lower portion of your leg.
Wool Socks
Finally, you must choose the right wool socks that can keep your feet warm and also prevent excessive sweating of the soles of your feet which is a common problem during winter. Woolen socks are thicker than synthetic and cotton variants.
The Final Word
We are sure that the above would have certainly have given you the right insight into the different types of dressing and styling options for men during winter. They will take care of style and appearance without compromising on comfort and preventing the body from the ill-effects of cold winter winds and other such problems.