While ordinary shoes are good enough for most people, there are some people who suffer from a bunion, flat foot, hammertoes, and other such problems. They would find normal shoes a bit difficult to wear. They would be on the lookout for modern, trendy yet wide shoes that take care of their special needs and requirements. Hence, we are happy to share some information about the various types of shoes that combine looks with comfort. Without any delay, here is a look at some of the most trendy and best fashionable wide width shoes.
TABLE OF CONTENTS:
Top 10 Fashionable Wide Width Shoes for Men

Top 10 Fashionable Wide Width Shoes For Women

Top 10 Wide Width Special Occasion Shoes

Top 10 fashionable wide width shoes for office
Top 10 Fashionable Wide Width Shoes for Men
1. Mx608x4 – New Balance Men's
Wide Width Shoes That Ensures Style and Comfort
This is a high quality 100% leather shoe with rubber sole. It is trendy and is made from breathable textiles. I recommend this as a wonderful training shoe because of its suede upper that comes with a dual-density collar and padded mesh tongue. It is also made from high-quality breathable textile lining and the EVA footbed is also a big takeaway. It can be used both for formal and casual purposes.
Image Source: link
2. Timberland – Basic 6-Inch Boot
Style Redefined with this classic 6-inch wide boot.
We are of the firm opinion that this is a high-quality waterproof lace-up option. It is great looking and comes with round toe, lace-up closure, a fabric lining and waterproof nubuck upper. The cushioned footbed ensures that you can wear it for hours at length without any foot fatigue. The rubber lug sole is also worth mention.
https://dsw.scene7.com/is/image/DSWShoes/308527_231_ss_01?$pdp-image$
3. Brogue Shoes – Allen Edmonds Strandmok
Craftsmanship crafted to catch the eye for those who believe in style
These shoes are a class by themselves and are a must for those who wish to stand away from the crowd. Exquisitely designed and crafted for pleasure and comfort, we are sure that it can be worn across a number of dress codes. It is available in brown and black colors.
https://2x1dks3q6aoj44bz1r1tr92f-wpengine.netdna-ssl.com/wp-content/uploads/2018/04/Allen-Edmonds-Strandmok-Brogues.jpg
4. Wolverine 1000 Mile Boot
Dress Boot With a Unique Difference. Made from top quality leather
These fabulous and comfortable mile boots have been around since 1914 and have certainly stood the test of time. Made from high top-class leather from Chicago, they come in a wide variety of widths. It is suitable for both formal and casual wear. It is available in different colors.
Image Source: link
5. Casual Sneakers From Go Walk 4
The Most Obvious Choice For Casual Wear makes walking a pleasing experience
These shoes according to me are designed exclusively for long-distance walking across rugged terrains. They also can double up as formal wear, thereby making it quite versatile. They come in different widths, and we have reasons to believe that they are suitable for those with large-sized feet.
Image Source: link
6. Running Sneakers – Brooks Ghost
Running can always be a pleasant experience with Brooks Ghost
We have seen these shoes help even laid back people to take up running aggressively. This is because of the versatility of this pair of running sneakers. It is feature-rich and comes with a neutral support frame. This offers stability not only for casual walking but also for a number of sporting activities
Image Source: link
7. Winter Walking Boots – New Balance BM1000VI
Let your feet be warm and comfortable in the winter as you walk long distances
It could be considered to be one of the best for winter months. They are Medicare-approved. We have considered them very good because they help in reducing the rear-foot movement quite significantly. The molded midsoles and foam insoles are also extremely good for reducing pronation.
8. Work Boots – CMW6220 from Carhartt
One of the best choices for those with wide feet, they come in different width size.
We are sure that this is a tough and hard-working work boot and is extremely rugged. The toe safety is big takeaway and comes with ASTM approved design and offers protection against hazards at the workplace. Other interesting features are OrthoLite Insoles that offer extra comfort and it also offers better motion control. They come in exciting brown leather and burnished oil-tanned colors. Good for those who suffer from flat foot and fasciitis
Image Source: link
9. Wide Sneaker From Skechers
Keen on staying comfortable on the go for long distances? This could be the one.
This is made from top quality leather and also comes with fabric upper mesh. It is suitable for those looking for an athletic style sneaker that combines performance with looks and comfort. It comes with mesh for cooling the feet, and the padded collar and tongue offer additional comfort. The outsole offers extra grip apart from being flexible.
Image Source: link
10. Wolverine Wide Work Boot
For Those At Work Who Want To Be Nimble Footed
We have found this to be a highly flexible, versatile and value for money wide sized work boot. It has a number of interesting and useful features. It is fully slip-resistant, and the polyurethane outsole offers protection and also is waterproof. The high perform leather upper and is certainly a shoe that will keep you on the move the whole long. It will keep your feet warm and also comfortable even when it worn for long periods of time. A good buy that is durable and long-lasting.
Image Source: link
Top 10 Fashionable Wide Width Shoes For Women
1. Clarks Tri Clara Shoes For Women
Just Glide on The Road With This Extra Light and Wide Shoes
We have seen many women talking about this wide-legged shoe being one of the lightest to ever walk on. This comes from the well known Trigenic range of Clara from Clarks'. It is without any doubt a top-class trainer shoe. It comes in standard D or even E fit. The width does add quite a bit to the overall comfort. It has special features that prevent the shoe from rubbing or overheating. The soles are intelligently cut at three places to offer the best possible flexible grip.
Image Source: link
2. Geox Lovai Ankle Boot
A Stylish, Comfortable & Breathable Cowboy Boot For Women
Many women believe that finding the right cowboy boot that is wide, comfortable and stylish for women could be a tough task. However, this may not be the case when you decide to try the much-talked-about Geox Lovai Ankle Boot. Our information about Geox makes us believe that they are specialists when it comes to hi-tech fabric for jackets and shows. This is quality 100 percent leather boots and is made from a patented and perforated soul. It also has a wide fit and leaves room for feet to be happier.
Image Source: link
3. Wide Fit Sandals From Dorothy Perking
Walk Gorgeously In The Evenings & Make Heads Swoon Around
Women with wide feet have issues when they are looking for the right evening shoes. However, with this wide fit sandal from Dorothy Perking, the problem is no longer there. This red stunner, I am sure is particularly impressive and also combines comfort with performance. It will rule out those irritating foot spill over edges and it also offers the best of single toe support as far as the strap is concerned. It offers a decent 3.5 inches of height and the woman can dance with her man the whole evening with these wide feet shoes on.
Image Source: link
4. Vionic Joey
From The Specialists of Biomechanically Designed Footwear
Are you a woman on the lookout for that incredible training shoe with broad and wide space? If yes, then you are in the right place. This could be the obvious choice for any woman on the lookout for a wide fit shoe with the right orthotic support. It adds stylish to any outfit. It also is feature-rich and we have seen it come with high-quality memory foam footbed. The width is quite generous and ensures that the feet are not quashed or pressed. It uses the famous FMT technology for comfort even when used for long periods of time.
Image Source: link
5. JD Williams Wide Fit Diamante Buckle Shoes
Tantalizing, Comfortable, Long Lasting & Wide Buckle Shoes
JD Williams has a record for offering high quality extra wide shoes and this diamante buckle shoes has lived to its promise. They are not only modern and trendy pointed shoes but also offer comfort at the same time. It comes with a one-inch heel and this makes it easy to walk all day. They go well with jeans and help women to make a fashion statement.
Image Source: link
6. Birkenstock German Classic Sandal
The Best of German Workmanship Is Here
This classic sandal has been around for four decades now and still continues to rule. It is naturally wide when compared to most sandals and shoes. It comes with a scientifically contoured footbed made from cork-latex. It helps the feet to expand during the day. It also has other features like adjustable straps and they come in many colors. We simply love this classic piece.
Image Source: link
7. Footway Soft 8 Ladies From ECCO
Experience The Best Of Trento Leather And Train Like As Only You Can
What makes these ladies' shoes from ECCO so special? This is an old shoe company founded in 1963 and the white trainers are perfectly suited for women with wide feet. It helps create more room inside the shoe. The soft leather also helps the feet to breathe and molds it to the right shape. It is supportive and spongy and offers value for money.
Image Source: link
8. Hotter Dorset
A Masterpiece from Hotter The British Shoemaker, the right choice for wide-footed women
Hotter has been making the best quality comfort shoes since 1959. They have been making shoes for all sizes. This one Dorset is a perfect fit for women who are looking for everything in a shoe, comfort, looks, wide fit and performance and value for money. It is made for being on feet for long periods of time.
Image Source: link
9. Van Dal Remington
A High Quality, Great Looking Winter That Cannot Go Wrong
This comes from the house of Van Dal and this shoemaker has been around since 1936. These winter boots can go well with almost all outfits and they are also known for the extra-wide fit especially the EE variants. They are made for women with wide feet and then go well when worn with thick socks. The underfoot cushioning, and a few other things do allow the women to make a statement.
Image Source: link
10. Camilla From Sargasso & Grey
For The Graceful Walk With The Unique Bespoke Best Fashionable Wide Width Shoes
When you are faced with a situation where you have wide feet and are looking for the right solution, it makes sense for you to go in for Camilla from Sargasso & Grey. They offer shoes that have a thicker heel with the best of insole and arch support. The shoes can be worn all day. The shoes are available in a number of colors.
https://static.independent.co.uk/s3fs-public/thumbnails/image/2018/09/27/17/sargasso-grey-camilla-burgundy-velvet.jpg?w660
Top 10 Wide Width Special Occasion Shoes
1. Skechers Go Walk Sneakers
Walk All Day In Style And Still Be Ready To walk
Are you worried whether you will be able to walk the whole day in spite of having wide feet? If the answer is yes, then you have many reasons to try and go in for these sneakers. We consider them to be quality slip-on sneakers for wide feet. Extremely lightweight, and have cushioned soles and high rebound footbed for energizing the footsteps. They come in wide sizes.
https://s3.us-east-2.amazonaws.com/travelfashiongirlpostphotos/2017/What+are+The+Best+Extra-Wide+Shoes+for+Travel%3F/cute-shoes-for-wide-feet-5.jpg
2. SAS Tour Shoes – Lace Up
Look No Further, For That Trademark Comfort And For Modern Styles
When you choose SAS, you can be sure about a few things. You can be sure that you will be buying extra wide shoes that are suitable for long-distance travel. They are suited for hiking and you also can choose between sandals and flats. Yes, they come with a slightly expensive price tag, but good things do cost a bit more.
Image Source: link
3. Propet Wide Feet Black Shoes
The Perfect Ankle Bootie For Many Uses & Purposes
Are you looking for a stylish ankle boot that has stacked heels inbuilt and also in wide widths? If yes, do try out the Propet Black and Tan Shoes. They offer the best of looks with top-class arch support and comfort. They have many options for width and the shoes are light in weight and offer good value for money.
Image Source: link
4. Vionic Cute Sandals
Enjoy The Best Of Style & Orthotics With Vionic
Yes, you will certainly fall in love with the Vionic cute sandals for a number of reasons. It could be a good buy for women who suffer from heel pain but at the same time, they would like to remain trendy and stylish. They are suited for summer travels and I have seen them come in many different widths. The sizes are also quite a few.
Image Source: link
5. Ecco – Comfortable Heels
For The Jetage Women Who Cannot Compromise on Looks & Comfort
These Ecco heel shoes could be the right one for those who are looking for variety as far as width and style are concerned. The shoes come with a rubber sole that is sturdy and they also offer very good arch support. They fit snugly and are suitable for long walks and do certainly look beautiful.
Image Source: link
6. Birkenstocks For Wide Feet
Sandals For Those Wide Feet
Getting the right sandals and shoes for those with wide feet can often be a problem. However, this is not the case as far as the wide feet sandals from Birkenstocks are concerned. They are for women with style and substances and also for those who are looking for comfort. The sandals have the trademark width and the narrow ones are also available. They come with adjustable straps and offer value for money.
Image Source: link
7. Softwalk Boots
For The Best Wide Shoes With The Most Comfy Soles
Many end-users have good things to say about these Softwalk Boots because they are perfect when it comes to comfort along with the most modern and trendy looks. They resemble the Petty Boots from Sam Edelman and are favorites with fashion bloggers and others. They are extra wide and therefore very comfortable at the same time.
Image Source: link
8. Sole Diva Basic Ballerina
For that gracious woman who loves to tread the path beautifully
Are you a fun-loving woman and would like to make the best of each and every moment. If yes, then have a closer look at Sole Diva. It is one of the best options for women with wide feet. It comes in different widths starting D, and moving E and EEE. They are available in different styles, types, and colors. They are not very expensive and perfectly suitable for travel and also for wearing on special occasions.
Image Source: link
9. Suede Ankle Boots From Heavenly Soles
Get That Heavenly Feeling With These Wide Feet Shoes
These suede ankle boots are certainly a bit hit among women who have wide feet. They offer some of the widest options ranging from D, E, EEEE, and even EEEEEE. They are wide without looking like orthopedic shoes. Hence, women will like both the ergonomics and the performance associated with these shoes.
Image Source: link
10. Reedly Salene Wedge Sandal For Women
The Meeting Of Comfortable Wear And Cute Heels
The Salene Wedge Sandal for Women is a mix of comfort and style. It is made from quality perforated leather and rubber sole. It has Ortholite footbed and it offers softness. It is suitable for those who are looking for heeled-shoes. They are best suited for that evening wear for a party or other such special occasions.
Image Source: link
Top 10 fashionable wide width shoes for office
1. Ingrid – Yellow Suede
Add Color And Style To Your Shoes
These shoes are perfectly suited for those women who would like to dress, walk and do things differently. These Ingrid Yellow Suede shoes are perfectly suited both for official and casual wear. Stylish, suave and perfectly fitting, they are also very comfortable.
https://cdn11.bigcommerce.com/s-2hrqsdpr4/images/stencil/1280x1280/products/300/1469/Ingrid-Yellow-Suede__42620.1579016134.jpg?c=2&imbypass=on
2. Luxe Giraffe – Ingrid
Add A Touch of Wildness To Your Wardrobe
This is another classy looking office shoe that can also be used for making some fashion statement. It is suited for ladies who suffer from bunions and other related problems. It can accommodate wide feet quite easily. It is a shoe that is liked by celebrities and ordinary women alike.
Image Source: link
3. Black Suede – Imelda
Herald The New Season With This Stunner
This, without any doubt, is gorgeous looking black suede that has been designed with comfort and style in mind. It comes with a high class textured metallic heel and it will certainly make head turn and have a second look. It comes with soft leather lining and can be worn for hours at length.
Image Source: link
4. Black Leather – Erin
It Will Be The Thing In your Wardrobe
This is a unique and versatile black leather boot that will go perfectly well with different types of dresses and clothing. It is made from high-quality Nappa Leather and it has a number of other features too. It has a unique and comfortable bunion bed among other things.
https://cdn11.bigcommerce.com/s-2hrqsdpr4/images/stencil/1280x1280/products/281/1014/Erin-black-leather__29543.1562672421.jpg?c=2&imbypass=on
5. Red Suede – Mercy
For The Women Who Love Heels
It does not matter whether it is for office wear or casual wear. The Red Suede Mercy will be talked about quite a bit as you walk across the length and breadth of the office. It is also suited for women who suffer from bunions, hammertoes, and other foot problems. It has the widest fits that one can think of.
Image Source: link
6. Magnani Lino Loafer
Handmade Majestic Shoes That Sets The Man Apart from The Lads
It is a great looking and comfortable shoe capable of accommodating wide feet. It comes with a leather upper and high-quality synthetic sole. It is made from high-quality leather that is richly burnished.
Image Source: link
7. Un Aldric Race
It is ideal For Work And also for other regular occasions.
These are clean and come with minimalistic laces. The shoes are made from premium black leather and the sole unit is thick and durable. They offer breathable comfort while being trendy and fashionable.
8. Tilden Cap
The Best For Formal Wear & Office Wear
These are extremely good looking lace-up shoes and they come with unique cap toe cap detailing. They are made from classic black leather and durable outsole. They also have the patented Ortholite footbed along with soft fabric linings.
9. Cotrell Edge by Clarks
One of The Best for Daily Office Wear
Suitable both for casual and office wear, these shoes come in different width, and these shoes are made from black leather. The unique Ortholite footbed ensures that the foam layers underneath provide lasting comfort even when worn for long periods of time. The shoes are designed to remain flexible and lightweight and also have breathable features.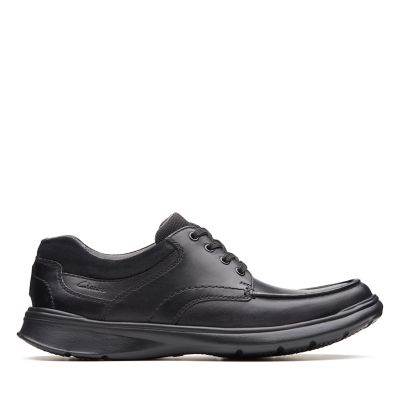 10. UnRamble Race by Clarks
Made with the best of old and new technologies
This shoe certainly looks awesome and has been designed and made to offer comfortable wear throughout the day and helps to keep the foot cool. The upper is made from high-quality black leather while is a combination of rubber and EVA offering durability and comfort.